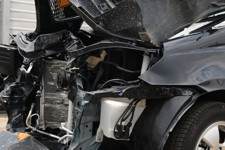 If you've ever spent any time walking in New York, you know that when you do so you're going to be dealing with crowds.  There are people everywhere, noise all around you and something happening that can distract you every few feet.  If you've walked in the city, then you also know that when you do so you need to pay attention to where you're going and what and who is around you for obvious reasons.  This is not a place to wander aimlessly.
Even though most people realize this reality, there are certain things that no one could ever predict or prepare for, and one of them is dealing with a moving vehicle that is suddenly coming at you after jumping the curb and continuing on down the sidewalk.  Tragically, that's what happened this morning, and a minivan that ran up a curb wound up hitting five people.  Four of them were injured and one of them was killed, and police are still investigating the cause of the crash.
The accident happened at approximately 10:30 a.m. near Thomson Avenue and 30th Street as the people who were hit were walking near LaGuardia Community College.  The person who was killed was a 16-year-old boy, and the other unidentified pedestrians who were hurt were taken to a nearby hospital.  All of them are expected to survive.  The police have not yet given any indication of what could have happened or why the vehicle suddenly left the roadway.  What is known is that this crash is going to become part of the statistics regarding New York pedestrian accidents.  Every year, more than 15,000 of these crashes occur.  They lead to just as many injuries and to more than 300 fatalities.
While this would come as no real consolation for the family of the boy who was killed, it seems possible that they could file a New York wrongful death lawsuit against the driver involved in this crash.  If they do so and the case is successful they could ultimately recover damages that help to compensate them for their losses.  If you have lost someone you love because of negligent driving, contact the New York accident lawyers at The Fitzgerald Law Firm today to schedule a free initial consultation.