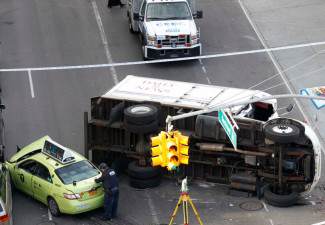 A driver for the Daily News was killed when his delivery truck was hit by a green taxi cab at a Brooklyn intersection, according to recent reports. Jonathan Long, 24, was driving a News truck south on Lee Avenue and was hit by Tazul Islam, 26, at the intersection of Flushing Avenue. The collision was so forceful that the vehicle was toppled onto its side.
Long was rushed to Woodhull Hospital but could not be saved. The driver of thetaxi  cab had been driving for two weeks and was going home after a 12-hour shift. Witnesses stated that the taxi cab ran the red light, although Islam claimed the light was green.
Long apparently had an unauthorized passenger in his truck at the time of the crash. The 58-year-old was taken to Woodhull Hospital and was said to be in stable condition.
Police are examining the footage of a video made by a nearby car's dash-cam to determine if charges will be made against Islam.
Charges Against Those Who Cause Accidents
In cases in which a driver who causes an accident breaks the law, it is common to see criminal charges against him or her. However, it is important to remember that charging someone for causing an accident is not the same thing as holding him or her liable.
Criminal charges mean that the accused person may face jail time, fines and probation. It does not mean that the victim of the crime will receive compensation. In some cases, the court demands that the accused person pay restitution to the victim, especially in the case of theft, but this type of restitution does not usually cover medical treatments, lost wages or sums for pain and suffering.
On the other hand, the victim can also file a civil lawsuit against the person who caused the accident. If the victim wins a verdict, the defendant will be forced to pay for expenses related to the accident, including the victim's mental anguish and pain as well as tangible bills like medical treatment. A victim can file and win a civil lawsuit regardless of the outcome of a criminal case.
How Can I Recover Compensation in a Criminal Lawsuit?
If you are injured in an accident, contact the personal injury attorneys at the Fitzgerald Law Firm in New York. We are ready to help you collect compensation for your injuries.