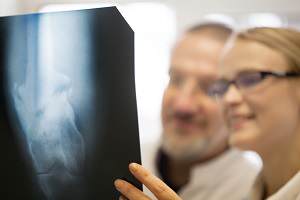 A study tells us that each year, about 12 million U.S. adults seeking medical care are misdiagnosed. That's 1 of every 20 people who visit the doctor. An Arizona man who just won a $2.5 million lawsuit against the Veterans' Affairs Health System in Phoenix is a good example of just how deadly a misdiagnosis can be.
We'll talk about his case and the misdiagnosis crisis in this issue.
$2.5 Million for Man in Lawsuit Against VA
Essentially, the 18-year U.S. Army veteran is a victim of a nurse practitioner completely missing tell-tale signs of prostate cancer – a horrible mistake that put off treating the condition for nearly a year.
The veteran went to the VA initially complaining of abdominal pain. Even though a nurse practitioner found abnormalities in his prostate, no further testing was ordered nor was an appointment to see a urologist offered.
The cancer grew and was not discovered until 11 months later when the veteran was being seen by a VA doctor. It was then the veteran was told that the cancer was aggressive, and his condition had worsened to stage-IV prostate cancer.
He now has about 5 years to live.
After a 2-week trial, a judge ruled in favor of the veteran and awarded him the $2.5 million judgement.
The Misdiagnosis Crisis
A couple of years ago, a study that generated tons of national media buzz revealed the ongoing crisis of misdiagnosis in the U.S.
In the study, the authors wrote that while "it's unknown how many patients will be harmed from diagnostic errors, our previous work suggests that about one-half of error have the potential to lead to severe harm."
This news is troubling for so many reasons. Among them is the fact that doctors and medical personnel are trusted to understand multiple diseases and conditions in order to provide the appropriate treatments.
Just as the veteran in the case above found out, a failure to properly diagnose a problem can lead to delayed or improper treatment.
Are You a Victim of Medical Malpractice? The Fitzgerald Law Firm Can Help You Receive Fair Compensation

If you have been the victim of medical malpractice, you've got enough on your mind. We can help you recover fair compensation to off-set lost wages, mounting medical bills and other expenses.
For a free consultation, call The Fitzgerald Law Firm; our number is 800-323-9900.