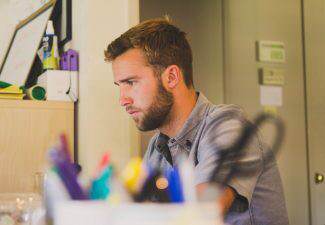 Research tells us that the average estimated costs of providing care for an autistic person can reach about $2.3 million. When we look at how difficult it can be for autistic children to find work once they transition into adulthood, it would be interesting to see if the number were to remain that low.
A recent article in the Washington Post shared personal stories from young autistic adults and head-scratching data about just how difficult it can be to find employment even though the skills to do a great job are already there.
Below are a few highlights from the article.
Autism Diagnosis On The Rise; Support Services Often End at 21
Back in 2001, the Centers for Disease Control and Prevention reported that about 1 in 150 children had autism. In 2014, that ratio had skyrocketed to 1 in 68.
While the majority of funding for autism research in the U.S. is earmarked for finding a cure, identifying causes and early-intervention programs, little is spent on adults with autism.
Even though federal law mandates educators to help children with disabilities put together a plan for entering adulthood, a report from the A.J. Drexel Autism Institute in 2014 showed that only 58% of autistic high school students had a plan when they reached adulthood.
Once an autistic child leaves the educational system, support service, trained counselors and the assuring routine of a structured environment slip away.
Employment Difficult to Find…But That Could Be Changing
According to the Washington Post, it's likely that between 70-90% of autistic people are unemployed or underemployed at the national level.
The A. J. Drexel report confirmed that two-thirds of young people with autism did not make the move to employment or other educational opportunities in the first two years after leaving high school.
That being said, there is a host of companies that have learned that people with autism, perhaps because of their keen ability to focus, are making smart business moves by seeking to hire them.
German software giant SAP, the information technology services company CAI, the consulting firm of Oliver Wyman and the risk management and human resources firm Willis Towers Watson are just a few companies that have begun working with Specialisterne, a Danish company that prepares people with autism for the workforce.
Even Microsoft has gotten on board by launching a pilot program for autistic individuals to work full-time in software and data roles.
Does Your Child Have Autism? Call The Fitzgerald Law Firm
Even the mildest forms of autism can seriously impact a person's entire life. Here at The Fitzgerald Law Firm, we've been successfully litigating cases that have netted very positive verdicts and settlements for children who have been diagnosed with autism and their families.
There's never a charge for the initial consultation, so call us at 800-323-9900.