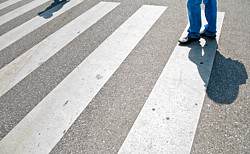 People in New York tend to understand that traffic can be a hazard and that motorists can present danger to people who are out walking.  However, few if any people would ever consider themselves to be at risk as they are leaving a store after buying cookies.  Tragically, a woman who was doing just that last night was hit and killed in a Brooklyn pedestrian accident after the driver of an SUV lost control of the vehicle and jumped the curb.

According to the authorities, this fatal Brooklyn pedestrian accident occurred last night at approximately 5:40 p.m.  An unidentified 48-year-old woman was leaving the Bagel Cafe in Brooklyn Heights on Clinton Street when suddenly, she was confronted and hit by the 53-year-old driver of a Honda SUV.  The vehicle pinned her up against a building and she did not survive the crash.  Police believe that the driver may have suffered some sort of loss of consciousness before the crash, possibly due to a medical episode.  They continue to investigate the situation.
New York Pedestrian Accident Statistics
First and foremost, we'd like to offer our most sincere condolences to the family and friends of the woman who was killed.  We also hope that the police investigation leads to a definitive cause for this Brooklyn pedestrian accident.  In addition, this crash will now become part of the overall statistics regarding New York pedestrian accidents.  Every year, more than 15,000 people are injured and more than 300 people are killed in these crashes.
New York Accident Lawyers
Assuming the available information regarding this Brooklyn pedestrian accident is accurate, then it seems possible that the family of the woman who was killed in the crash could respond by filing a New York wrongful death lawsuit against the driver.  If such a lawsuit is filed and it's successful, the family could be awarded damages that compensate them for their different forms of loss.
If you have lost someone you love in a crash, you need to seek the help of New York accident lawyers who have been fighting for the rights of clients for many years.  Contact The Fitzgerald Law Firm today to schedule a free initial consultation.