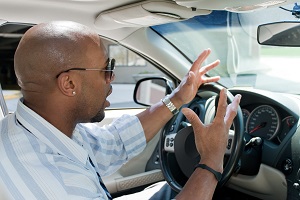 In a scene that was captured by video and quickly went viral, a motorcyclist actually kicked at a car in a fit of road rage that triggered a terrifying chain-reaction crash that sent one driver to the hospital and caused a trucker to overturn.
In this issue, we'll talk about what happened, and share tips for how you can reduce your chances of being injured by a road rage driver.
"This Could Have Been a Tragedy"
As the video begins, the motorcyclist can be seen kicking a small sedan with his right leg. The car then swerves to the right before turning sharply to the left where it then slams into the lane divider.
The car would then cross lane and broadside a white pickup truck that is knocked over.
The driver of the truck was rushed to a hospital with a gash on his head. Speaking later with CBS News, the man said, "I saw my world coming to an end."
A spokesperson for the California Highway Patrol said, "This could have been a tragedy. Whatever they did for this incident to occur doesn't warrant them fighting in the middle of the freeway."
The Growing Problem of Road Rage
According to the National Highway Transportation Safety Administration, fatalities from aggressive driving have jumped 60% since 2011. Today, about two-thirds of highway deaths are caused by aggressive driving.
How can I avoid becoming a victim of someone with road rage?
Our roads are dangerous enough and you can be proactive in protecting yourself from other drivers with bad attitudes.
Try to avoid:
Cutting others off
Driving slow in the left lane
Tailgating
Making obscene hand gestures
Pulling over to the side of the road to "settle things"
If You're Hurt In A Car Accident By Someone Else, Call The Fitzgerald Law Firm
We'll aggressively pursue proper compensation on your behalf to cover damages for pain and suffering, lost wages, lost earning capacity, emotional distress, loss of enjoyment of life and other damages.
The first consultation is always free, and our number is 1-800-323-9900.