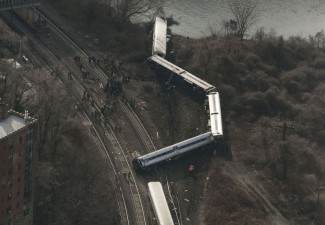 Thousands of people take the trains at nearly every hour of the day through the city and most of us never give our safety much of a thought.  We take the train for several reasons, including the facts that it's probably faster than driving a vehicle through traffic and it's less expensive and stressful than searching for parking somewhere.  A train ride on an otherwise sleepy Sunday morning would hardly be something that would lead to concern among passengers when they embark on their journeys.
Tragically, what would otherwise have been a completely uneventful and forgettable commute turned into total disaster over Thanksgiving weekend when the 5:54 train from Poughkeepsie encountered a curve near the Henry Hudson Bridge.  At that point, the train suddenly derailed and life-threatening chaos ensued.  Passengers were thrown all over the place and a few were thrown from their train cars altogether after the windows blew out as a result of the force of the derailment.  Several cars wound up on their sides and those who survived were left scrambling frantically to find safety.  At this point, four people have been confirmed as killed and more than 60 others have been injured, approximately a dozen of them critically.
As is always the case with train accidents, the federal government has sent representatives from the National Transportation Safety Board to investigate the situation.  Those NTSB people will inspect the overturned cars and look for information from the train's event recorders, which are similar to the black boxes that are found in airplanes that are searched for after a crash.  The only preliminary indication of a cause at this point is that the train operator may have approached the curve with too much speed.  The speed limit at that curve drops from 70 to 30 miles per hour.
Reports also indicate that the train operator 'dumped' the brakes as it became clear that the train was moving too fast, but those reports have yet to be confirmed.  Dumping the brakes in this context basically means that all of the emergency brakes were pulled on all of the cars in a last-ditch, desperate attempt to avoid a derailment.  More information is sure to become available in the days ahead as witnesses are interviewed and evidence is gathered.
For now, the Metropolitan Transportation Authority will cooperate with investigators to get to the bottom of this terrible event.  In the meantime, anyone who has been affected by this accident should take some basic steps, including learning more about your legal rights as they relate to this incident.  It could be possible to pursue the recovery of compensation if you or someone you love was harmed, as it seems relatively clear at this point that the passengers did not cause this derailment.  The New York injury lawyers at The Fitzgerald Law Firm would like to send our thoughts to those who lost their lives and their families as well as to those who are fighting to overcome injuries.  We hope that the investigation comes to a fast and accurate conclusion.