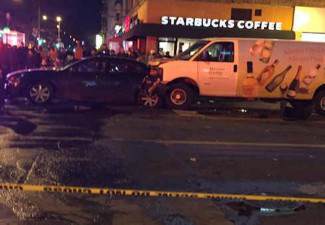 According to reports, a multi-vehicle accident on Friday night in Harlem has left eleven people injured.
The crash occurred on the westbound side of 125th Street at Lenox Avenue when a delivery van hit the back of a four-door Nissan. A motorcycle then hit the van, sending the motorcycle rider flying through the air.
One witness stated that "the car in the front pulled the brakes too fast, and then the vehicle in the back happened to slip up on that second car, and then the motorcycle guy – he flew up into midair going onto the floor." Luckily, no one was killed in the incident. Seven of the individuals involved were reported to have serious but non-life-threatening injuries, while the remaining four had minor injuries.
Determining Fault in a Multi-Vehicle Accident
The National Highway Traffic Safety Administration (NHTSA) reports that a vehicle accident occurs once every sixty seconds in the United States, resulting in over 6 million accidents a year. Of these many accidents, almost one-third of them involve multiple vehicles. It does not take much for an accident to occur. If one driver is distracted temporarily, they can set off a massive chain reaction of vehicles colliding. When multiple vehicles impact, the chances of injury or even death is much higher.
Multi-vehicle accidents usually result in high insurance payments. Because of this, insurance companies will hire trained investigators to determine who was at fault. Police will also conduct their own investigation and likely come to a conclusion about who was at fault. Because each driver has a duty of care to others on the road, failure to act in a carful way can result in negligence. Negligence is the main component of proving someone was at fault for an accident. For example, if a driver was texting and hit another car, that driver would be at fault.
To determine and prove fault, you will need evidence including the police report, interviews with those involved, pictures and even past driving records. It is also a possibility that fault could rest with more than one driver.
When facing a difficult personal injury case involving multiple drivers, it is important to have an experienced and knowledgeable personal injury attorney on your side. For over 40 years, the Fitzgerald Law Firm has been helping the victims of vehicle accidents seek compensation for their damages. Our team can help you determine who was at fault, gather evidence to show negligence and represent you at the negotiating table or in court if a settlement cannot be reached. When facing the daunting task of proving negligence in a multiple vehicle crash, turn to the team at the Fitzgerald Law Firm.