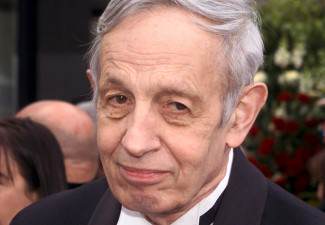 According to police, Nobel Prize winner and Princeton University mathematician John Forbes Nash, Jr., and his wife were killed in a car crash on the New Jersey Turnpike.
John Forbes Nash, Jr.'s, life was the inspiration for the film "A Beautiful Mind." He and his wife, Alicia Nash, were killed when a cab driver lost control and crashed the vehicle in which they were riding into a guard rail on the New Jersey Turnpike. According to Sgt. Gregory Williams of the New Jersey State Police Department, the driver was trying to pass a Chrysler while traveling south in Monroe Township.
Nash and another mathematician, Louis Nirenberg, had just received a prize from the Norwegian Academy of Sciences and Letters in Oslo just days before the crash. Nirenberg said Nash was "a kind of genius" and an incredible mathematician.
Police reports indicated that neither Nash nor his wife were wearing seat belts at the time of the crash and were thrown from the vehicle when it collided with the guard rail. The taxi driver suffered non-life-threatening injuries and was taken to Robert Wood Johnson University Hospital. One passenger who was in the Chrysler during the accident was treated for neck pain.
Russell Crowe, star of the 2001 film "A Beautiful Mind," tweeted on Sunday that he was stunned and heartbroken by the news. The Nobel Prize in economics was awarded to Nash for the work he did in game theory. Game theory is considered to be one of the most influential ideas from the 20th century.
How to Handle a Wrongful Death Case
The New York wrongful death statute allows for a spouse or next of kin to recover damages when someone dies in a car accident caused by negligence. However, you have less time to file a New York wrongful death claim than many other claims. Hiring a personal injury attorney can be critical if you plan to timely and properly file a wrongful death claim.
The Fitzgerald Law Firm in New York has represented car accident victims and families who have lost loved ones in auto accidents for more than 40 years. The experienced attorneys at the Fitzgerald Law Firm understand that evidence can be compromised or even lost over time and will act immediately to ensure it is collected and preserved. The firm also understands the intricacies of the New York wrongful death statute and will fight for you to recover damages. If you have lost a loved one in a New York car accident due to negligence of another driver, do not wait. Call The Fitzgerald Law Firm today for a free consultation.