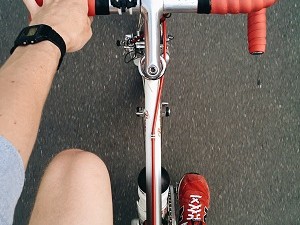 A man who was injured in a bike accident used the experience as a springboard to create something useful that he hopes will help people understand the danger of New York Streets.  Creating what he calls a "death map" of the boroughs, Zach Schwartz hopes to help people think about the complicated relationship between certain areas of the city and the deaths that have occurred there.
The map includes not only car crashes and other types of accidents but shootings and murders as well.  The idea came to Schwartz when he was involved in a bike accident on Vanderbilt Avenue in Brooklyn.  A drier opened a car door in front of his bike; the subsequent collision left a six-inch gash in his neck that severed his carotid artery.  While this type of accident is generally fatal or causes serious neurological damage, Schwartz was fortunate enough to make a full recovery.
The map includes 2,910 deaths over two years in all five boroughs.  One of the most interesting facts that emerged from his research is the fact that both homicides and crashes tend to occur in the same locations more than once, leading to the speculation that some corners or streets are simply more dangerous than others.
Accidents in New York
Any large city sees many accidents each year, but certain areas of New York seem to have more than the usual number.  This is especially true on busy streets where bicycles, pedestrians and car drivers must all share the road.
New York accident victims may be involved in pedestrian crashes, bicycle collisions or car accidents.  Sometimes these accidents involve taxis or public transportation vehicles such as buses; sometimes they involve collisions with privately-owned vehicles.
No matter what the cause of your New York traffic accident, it is likely that you will have expenses related to your crash.  For example, you may have medical expenses related to emergency treatment and follow-up care you received such as hospital bills, doctors' bills and costs of therapy and medication.  You may also have lost wages due to your inability to work; in some cases, people lose their jobs after a serious accident because they cannot perform their job duties anymore.  You may be suffering from temporary or permanent disability related to your accident.  Finally, it is likely that you have suffered pain and anguish related to your injuries.
If you have been involved in any type of accident, be sure to contact the personal injury attorneys at the Fitzgerald Law Firm in New York for help.