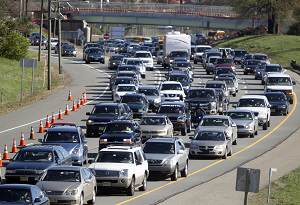 The Garden State Parkway was closed for several hours after an accident left one man with critical spine injuries, according to a recent report.  The multi-vehicle crash occurred on the northbound side of the Garden State Parkway near exit 14A.  According to police reports, two vehicles collided with each other just outside New Jersey near Interstate 87.  Five vehicles were passing the initial crash when they rammed each other, setting off the chain reaction.  The 46-year-old victim's BMW was rear-ended in the collision.  He was listed in critical condition at Nyack Hospital following the accident.  A total of seven people suffered injuries, including a concussion and reported body pain.
Drivers were stuck in traffic for more than two hours as a result of the crash.
Holidays Are Dangerous Times for Travelers
Holiday weekends are traditionally a dangerous time for road travel.  In some cases, victims suffer serious injuries when crowded highways turn deadly due to congestion and deadly errors on the part of other drivers.
According to the National Highway Traffic Safety Administration, an average of 36 highway fatalities occur each day in the United States as a result of alcohol-impaired drivers.  However, that number jumps to 45 fatalities during Christmas holidays and to 54 per day over New Year's Eve and New Year's Day.  In addition, the number of fatal accidents that do not involve alcohol also increase during these holiday periods.
This means that holidays can be very dangerous times to be on the road.  Experts recommend the following tips to help reduce your chances of becoming a victim:
Time your trips. You are less likely to be the victim of an accident, particularly one caused by a drunk driver, during the hours from 6:00 a.m. to 3:00 p.m.  While there is no guarantee that accidents will not happen during these times, your chances of being involved in a crash are much greater at night, particularly on holiday or weekend nights.
Slow down. If you are involved in a crash, you have a much better chance of surviving if you are traveling at a slower rate than if you are speeding.
Wear your seat belt. Using your seat belt in combination with air bags and other protective devices gives you the best possible chance of surviving a crash.
Don't drink and drive. Avoid drinking and driving by using a designated driver or taking public transportation.
If you have been the victim of an accident of any type, contact Fitzgerald Law Firm in New York immediately for help in collecting compensation for your injuries.