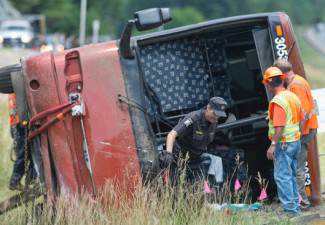 A bus crash in northeastern New York left one dead and more than 50 injured when a Canadian tour bus skidded off of Interstate 87 after the bus crashed through the highway's median guard rail. The bus then rolled down a steep embankment.
The passenger who was killed in the accident was identified as Chelssey Mercier, age 14, of Trois Rivieres, Quebec, Canada. The young woman, who was travelling with her mother, was thrown through the windshield of the bus and then pinned under part of the vehicle. A passer-by freed Mercier from the overturned vehicle, but she died soon after. First responders arrived moments before the teenager succumbed to injuries.
The passengers and their driver were heading to New York City for a three-day tour. The bus originated from Quebec City and made stops in Montreal and Trois Rivieres en route to New York City. The 61-year-old driver apparently lost control of the bus, though investigators have not stated what may have caused him to do so. Police took the driver, who was not injured, into custody for questioning. Authorities have not announced any charges as of yet.
Other than the single fatality, the crash also caused a number of non-life threatening injuries that included broken bones and lacerations. The injured were transported to five separate hospitals. Witnesses stated that passengers managed to exit the overturned bus via the smashed windshield and a roof hatch. Several motorists offered assistance, speaking to the crash victims in both English and French. Most of the passengers were college students in their 20s, though the ages ranged between 6 and 54. The bus contained no seatbelts.
New York State Police Major Richard Smith stated that authorities will retrieve data about the bus's speed and brake use from its black box, a mechanism used for monitoring driving.
Crashes Involving Buses and Commercial Vehicles
Unfortunately, cases such as this are not unique. The US DOT reported an increase in injuries caused by commercial vehicles in recent years. In 2009, 525 people were killed while riding in large trucks or on buses; in 2010, that number increased to 574, and in 2011 it rose again to 689. This is despite the fact that the overall number of fatal crashes involving large trucks or buses dropped from 3,193 to 3,568 during the same period.
If you or someone you know has suffered grievous injury due to the negligence of a trusted driver, seek the experienced legal representation of New York-based Fitzgerald Law Firm. With extensive knowledge of personal injury law, including the rights of those injured by irresponsible drivers, the attorneys at the Fitzgerald Law Firm are ready to help you win your case.